Waterford Schoolboys Football League (Official)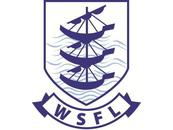 Waterford Schoolboys Football League (Official)
Every Child Has a Place
Waterford Schoolboys Football League (Official)
The Waterford Schoolboys Football League
In 1957 the Waterford Junior and District League established the Waterford Schoolboys Football League (WSFL) in order to organise and promote association football via schoolboy soccer competitions in Waterford city and the surrounding areas. The League started with eight clubs fielding a total of eight teams at Under 14 and 16 levels. Mr Paddy Toms was elected to act for the year as secretary for the schoolboy league. He was followed by Mr Joe Goulding who held the position for 21 years before Mr Willie Moran took over for ten years. Mr Pat Kelly is the current secretary and is entering his 30th year of service as secretary of the WSFL. The WSFL is affiliated to the Schoolboys Football Association of Ireland and represented at National Executive level by Mr Pat Kelly.
The Football Association of Ireland (FAI) cites the Economic Social and Research Institute (ESRI) who have identified that there are 450,000 participants involved in football in Ireland. It is worth noting that of this 450,000, the numbers involved in schoolboys football is 200,000.
The popularity of schoolboy soccer has certainly increased in Ireland over the years and the WSFL has enjoyed continuous growth up to the present day. Currently, the league is comprised of 23 clubs that are based in Waterford city and county, and include Carrick-on-Suir, Piltown, Mooncoin and Kilmacow. Each club has its own facilities and the improvements and investments over the years illustrate a real confidence for the future.
This season we have 160 teams, and 2500 children, playing from the under eight grade up to under sixteen grade in our league and cup competitions. This season we have 20 league divisions and there will be 17 cup competitions scheduled by fixtures secretary, Davy Cullen, which results in approximately 1500 fixtures. WSFL teams also participate in national cup competitions run by the Schoolboys Football Association of Ireland (SFAI) from the under 11 to under 16.
The WSFL also runs a development squad for every age group from under 12 to under 16, and has enjoyed the success in recent years in winning a number of Munster and All-Ireland titles. Each year the WSFL competes in the Kennedy Cup Tournament, the Irish Championship in June of each year and have won this competition on three occasions in 1993, 1998, and 2003. Also the WSFL under 15 team participates in the Foyle Cup, an international football tournament held in Derry city in the month of July of each season and has reached the final twice in the last five years, and were runners up on both occasions. The WSFL only entered this competition only five years ago.
In partnership with the Villa Football Club, an under 12 inter league tournament in honour of the late great Frank O' Byrne, who gave a life service in football to the Villa F.C. and the WSFL is held in June of each year. Frank O' Byrne was a member of the WSFL committee for over forty years.
Over the years many of our players have played for Ireland and this is indicative of the coaching levels in our league...most of our managers and coaches have FAI coaching qualifications and we are working to a situation where everyone will be qualified. While we are justifiable proud of players like Jim Beglin, John O' Shea, Stephen and Noel Hunt, Brian Murphy, Daryl Murphy, Jim Goodwin etc. we are conscious always of providing for children with a wide range of ability....from limited to excellent. Every child has a place.
The WSFL also engages in social responsibility and in 2011, Messrs. Pat Kelly and Davy Cullen were joint organisers of the successful John Giles Foundation Walk of Dreams event, which saw the WSFL and its member clubs raise €24,000 in one day.
On a different side, we all subscribe to the FAI Code of Ethics and have Child Welfare Officers in each club and on the League Committee itself.
The essence of what we do is to provide a healthy sporting outlet for boys and girls. This has beneficial outcomes by way of social and team-working skills which, in turn, give young people a positive attitude as well as specific goals to aim for.
Follow the site to get the latest news and results straight to your email
Weather

2 MPH NE
93% humidity
Mon

13°C
8°C
Tue

15°C
7°C
Wed

14°C
5°C
Thu

13°C
8°C